Spirit-Shaped Mission
Book developing a holistic charismatic theology of mission.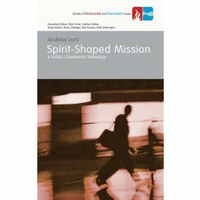 Book cover
Spirit-Shaped Mission brings together Pentecostal and charismatic theologies of mission for the first time. Part one assesses past theologies, drawing both on scholarly research and the thinking of key church leaders such as John Wimber, who have influenced the Anglican charismatic movement in Britain.
Part two addresses different issues that need considering in a holistic theology of mission, including the holistic content, experiential nature, contextual grounding, community focus and spirituality for mission. Spirit-Shaped Mission develops a framework for understanding the 'mission of the Spirit' that contributes to pentecostal, evangelical and ecumenical thinking on the subject.
Andrew Lord, Spirit-Shaped Mission, Carlisle: Paternoster, 2005

Contributed by:
last modified
2014-09-04 13:24